THE MOKE URBAN UTLITY EBIKE
The MOKE eBike is a cool, powerful compact utility electric bike that is a dream to ride. With 20 inch front and rear comfort tires, a set of 2 carbon disc brakes and an ultra long  2-person moped style seat, the MOKE takes two persons plus baggage anywhere in style!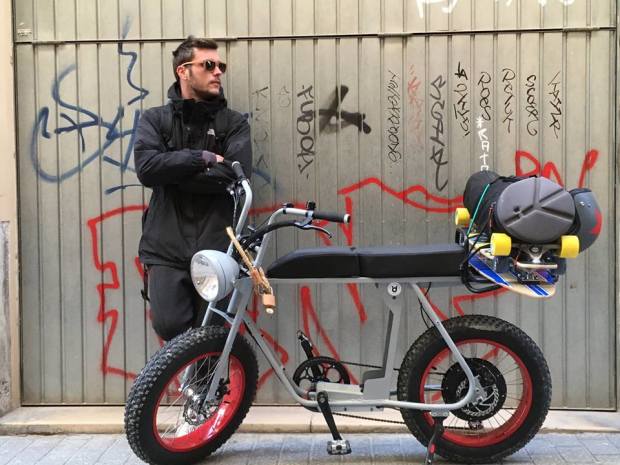 MADE FOR FUN, FAMILY AND WORK
The MOKE was designed by Urban Drivestyle Mallorca SL as a true urban utility vehicle: 180 kg of useful load, the longest bike seat EVER and a huge selection of useful accesoires make the MOKE your personal vehicle for fun, family or work! All of this paired with high-torque rear drive motors and the best of battery technology will change the way you drive for ever!
 Having proven the concept and technology of the MOKE with over 10,000 miles of aggressive  testing, rental operations and tours, we now want to get the MOKE into your hands!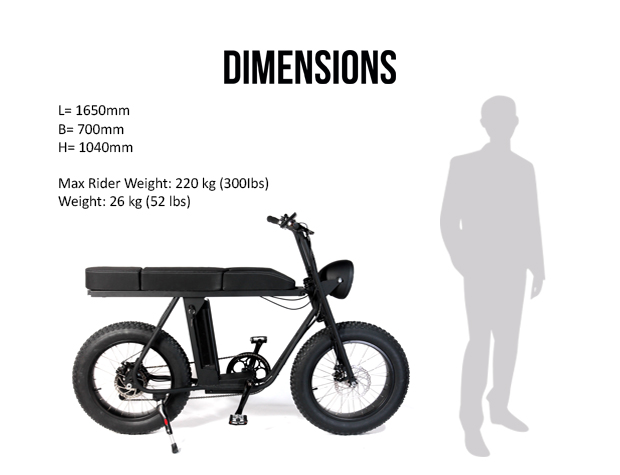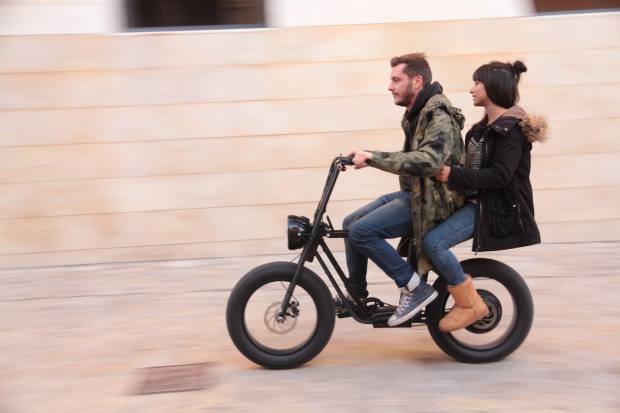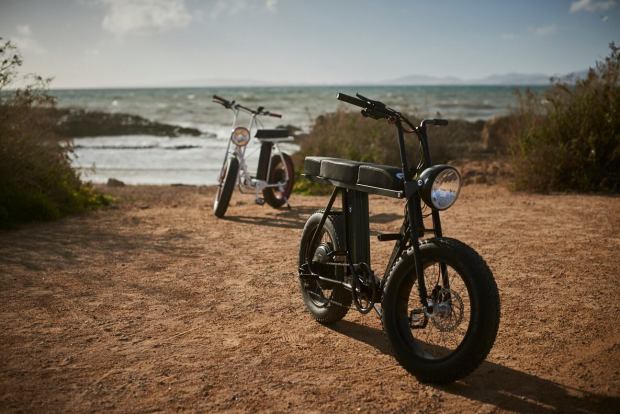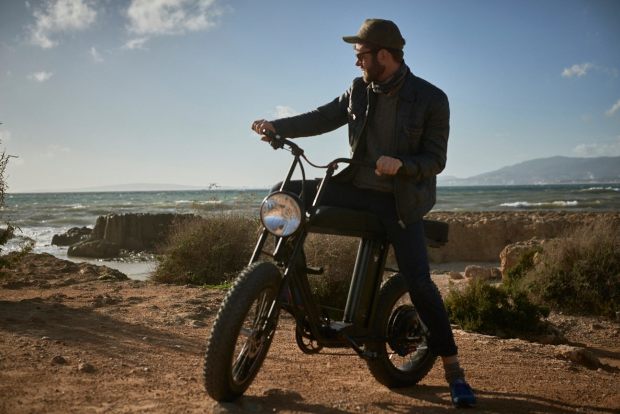 UP TO 1000 W 
Choose your motor option : MOKE 250 (EU), MOKE 500 and MOKE 1000.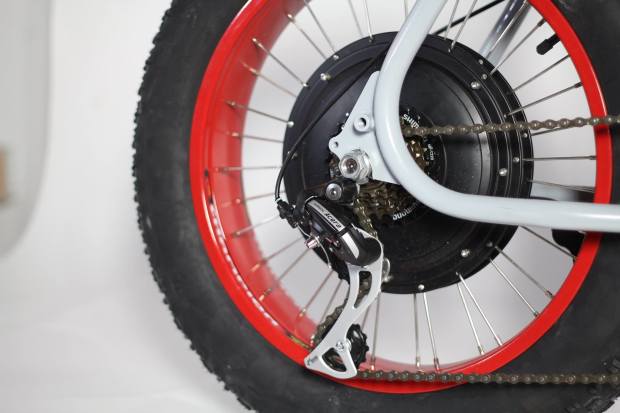 ICONIC METAL LED HEADLAMP
The cool looks of a vintage 70ies moped combined with the advantages of an eBike!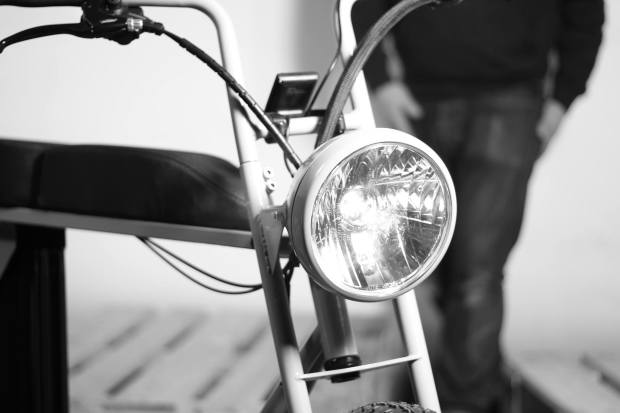 CARBON DISC BRAKES
High-end disc brakes and power cut-off make the MOKE safe to stop if needed!

3-PIECE TWO PERSON SEAT
The longest bike seat of the world to take two kids or one passenger in comfort!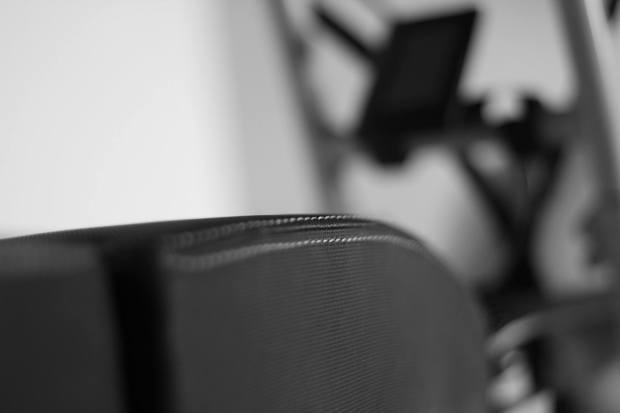 STEEL FRAME FOR UP TO 220 KG LOAD
The rugged CroMoly steel frame provides motorcycle-style stability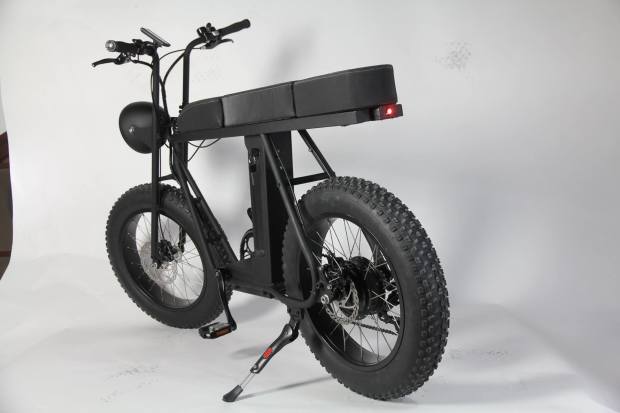 REMOVABLE & LOCKABLE BATTERIES
Charge your MOKE at home  with our lockable slide-in battery mount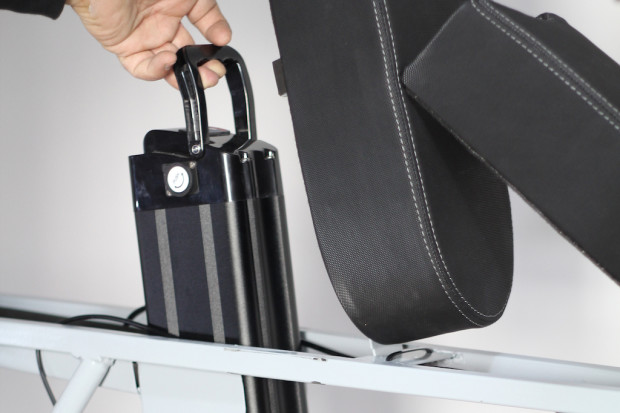 80 KM + RANGE ON TWO BATTERIES
Double your range by simply purchasing the "Ranger" battery perk.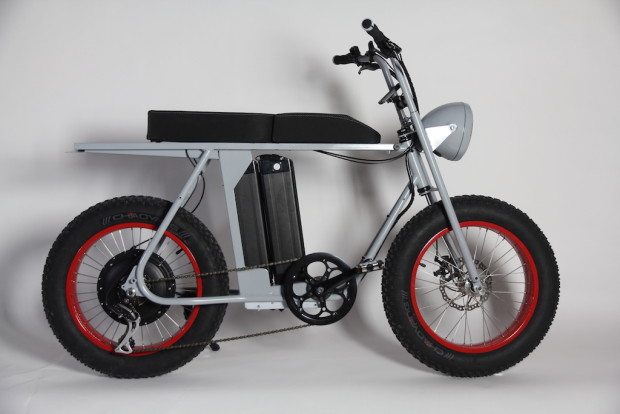 ALL TERRAIN TIRES
Take your MOKE anywhere with our choice of semi-slick or all-terrain tires.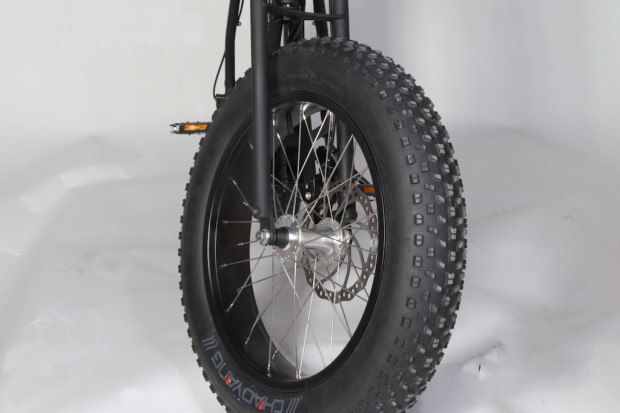 COOL ACCESORIES & CARGO OPTIONS
Get unique and cool gadgets, locks and riding gear for your MOKE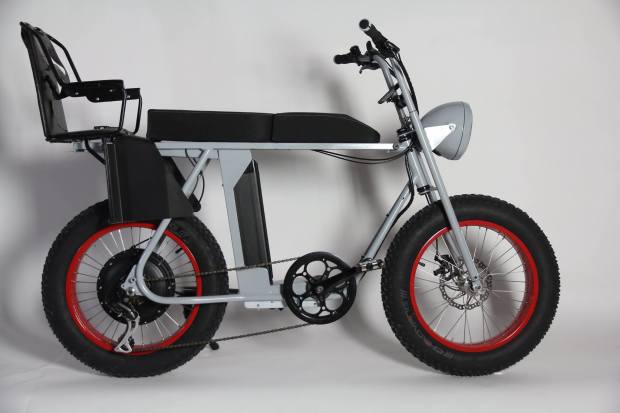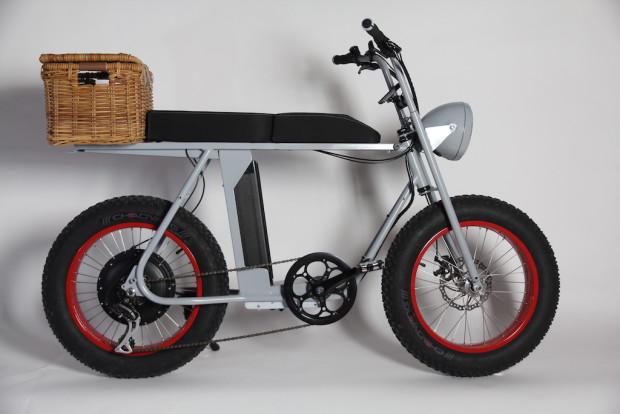 9 POWER MODES, UP TO 45 KM/H
Rock, glide or exercise: Enjoy 9 engine power settings to adjust to your ride style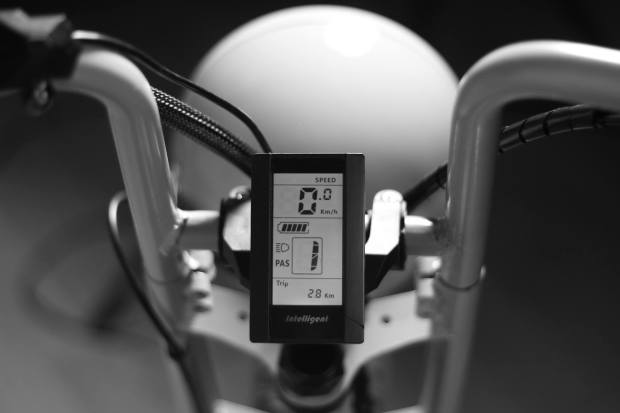 HANDMADE IN THE EU
All MOKES are handmade in the EU in our own facilities for optimum quality control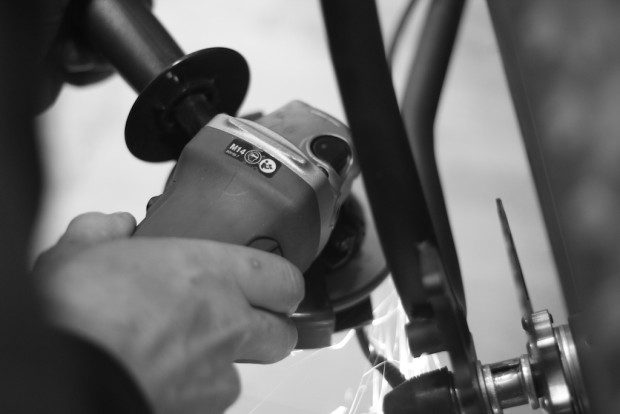 STORY
At Urban Drivestyle SLU on mallorca, Spain, we offer the latest and coolest brands of the e-bike industry for sale and rent. We also are an ebike tour operator and run our own repair- and welding shop.
The first MOKE was created by our design and technical manager Phillip in September 2016, who just wanted something to pick up girls from the beach and to carry tons of beach equipement. So a lot of power, double seat option and enough cargo capacity for his beach-volleyball stuff was way up on his list.
He started welding away  in our workshop in November 2017, but honestly we did not pay too much attention to the project, until he rolled out the first MOKE with a big grin on his face. 
We loved the idea so much, we all decided that we wanted one and soon people stopped in front of our store inquiring about the "cool ebikes" parked outside the store of Urban Drivestyle. That finally did it and we decided to just build them for others as well. Now demand is so high that we actually have to move on to professionalize production and delivery!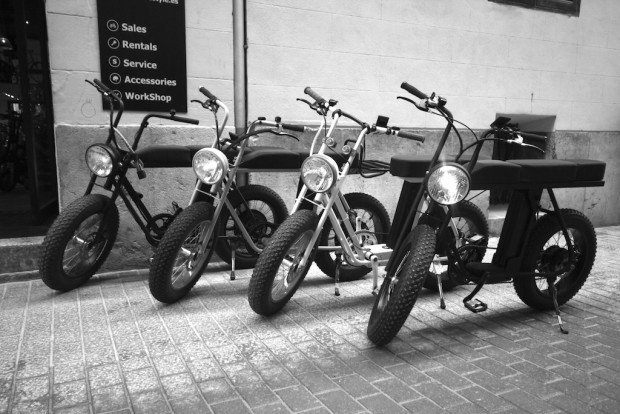 TEAM
Besides running two bike stores, we design and build our own creations on a regular basis. In our repairshop in the heart of Palma, we get to lay hands on the finest bikes and parts of the market (Freygeist, Meijs Motorman, EGRET, Smiling-Elements, EMCO Scooters, Yunbike, Stromer and many more…). So you are in good hands with your MOKE!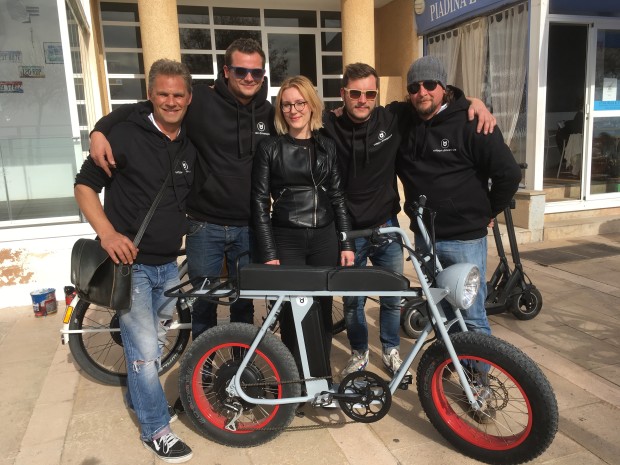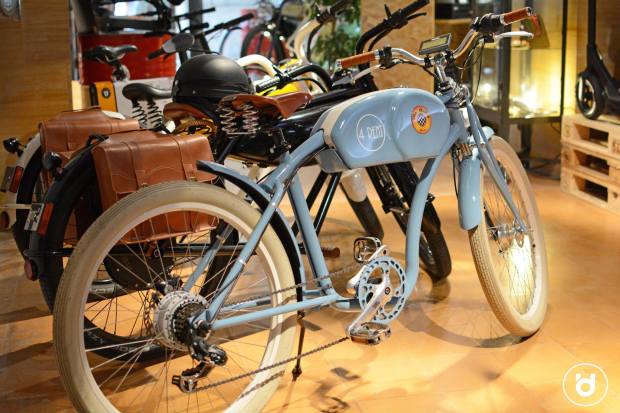 Technical Details
| | |
| --- | --- |
| Type of vehicle | Electric bicycle / pedelec |
| Homologation | EU/ US (+ Norway and Switzerland) |
| Max. speed | 25/45 km/h |
| Range 45 km/h version | 50 – 65 km |
| Battery | Lithium-Ion / 14 AmpH |
| Engine Power | 0,3 kW / 80 Nm |
| Recuperation | Brake energy recuperation |
| Weight | 29 kg |
| Brakes | Hydraulic disc brakes, 203 mm |
| Frame | Steel and CrMo steel |
| Engine type | Brushless direct-drive hubmotor |
| Saddle | Handcrafted comfort seats |
| Charging time | 4 – 6 h/ 2-3 h with quick charger |
| Accessories | Luggage carrier/ Extra seats/ |
[/vc_column_text]

Get your MOKE now on Indiegogo: